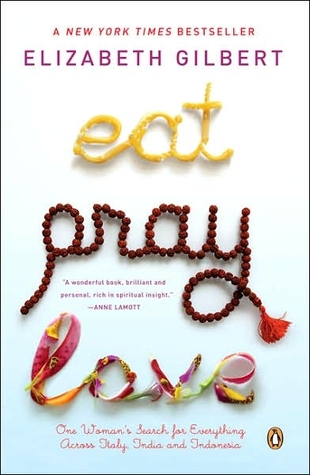 Rating: ★ ½ ☆ ☆ ☆
Date read: December 01 to 05, 2012
Read count: 1
I have this book rule that I follow loosely, but sometimes have to enforce when the book is all hype and all gimmick, which is what this book is. The rule is: before I hate on a book, I have to read it first, at least get through a chapter and then decide.
I went into this book with expectations, not high expectations, mind you, because it was turned into a major motion picture. So I went in for the "eat" part, but knew I'd hate the "pray" and "love" parts, which took up much of the book and got in the way of my enjoyment, not that I was enjoying it immensely. "Pray" and "love" also reminded me why I rarely read memoirs–too many self-exploratory inner-struggle thoughts that lead nowhere. I don't find any of these things interesting and therefore did not enjoy the book, but at least I stuck to my rule and tried it.
Original review can be found here.