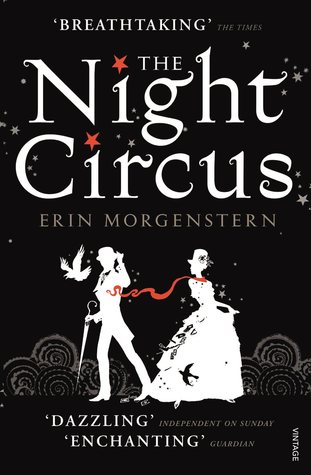 Rating: ★ ★ ☆ ☆ ☆
Date read: October 16 to December 12, 2013
Read count: 1
This book is one of the few that works better as an audiobook because it's got lovely flowing sentences that sound great when spoken aloud, especially by the great Jim Dale. There so many lovely fantastical sensory details that suck you right into the dreamy magical world of Le Cirque des Rêves. The downside, however, is it's a chore to read on your own, as I found out (more below the spoilers).
I started out reading and I really enjoyed the first few chapters, but then the story went on and on for too long without much happening, and so all those lovely fantastical descriptions lost their luster and became grating. I lost full interest somewhere in the middle, right around the time I realized the competition between the two rival magicians was going nowhere and that it wasn't actually a competition, more like an awkward one-up-man-ship.
So I ended up finishing the read via Jim Dale on audio. He's amazing, so amazing he saved this book for me. Anyone who's interested in this book should try it on audio first.
Now for the hard part. I'll try easing into it.
*
* *
* * *
* * * * spoilers below * * * *