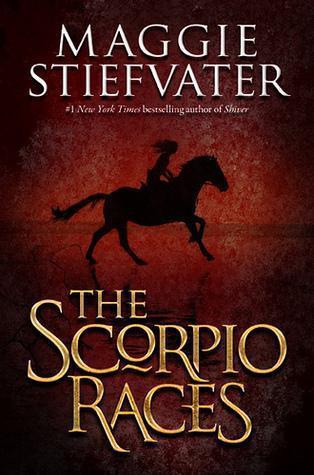 Rating: ★ ★ ★ ★ ☆
Date Read: June 20 to 27, 2014
Read Count: 1
Recommended by: Martha
Recommended for: horse lovers
This book is everything YA mythological fantasies should be but aren't, at least not for me. The writing is great, the characters are memorable, and the plot actually leads to a climactic ending. There's an actual race, not just a staring contest style stand-off. Jokes aside, The Scorpio Races is one of those books that the less you know about it the more you'll enjoy it.
The writing is what impresses me the most. It's better than I expected and far better than the usual stunted YA prose. The narrative is atmospheric and magical, the characters are well-developed and sympathetic, the setting is a character itself, and the water horses are angry and violent, yet strangely alluring. Every scene and every confrontation is written so precisely that the action is pushed right up to the edge without going over into melodrama. Every moment leading up the Scorpio Races takes the story that much closer to inevitable chaos and death. After reading this book, I actually felt like I'd spent some time on the cold misty shores of Thisby.
On to the actual story:
The time is the turn of the century and the place is the fictional island of Thisby, a hard place to survive, surrounded mostly by cliffs and rocky ledges and one long stretch of cold beach where the Scorpio Races take place every year. Nothing grows on this island, and so most families are struggling to get by. For orphans like Sean Kendrick and the Connolly siblings, life is even harder, and they're barely hanging on. Sean is a skilled horseman and a sort of capaill uisce (water horse) whisperer. He's a novelty on the island, but chooses to live a quiet life and plies his trade at the Malvern stables, where he trains and races capaill uisce for the Malvern family. He dreams of earning enough to run a stable of his own one day. Puck Connolly and her brothers lost both their parents to the sea some time ago. Now at the risk of losing her older brother to the lures of the mainland, Puck decides to take her chances in the Scorpio Races to keep what's left of her family together. Since she's the first girl ever to run in the races, she faces opposition from the "traditional" factions of the island, but she also has a few quiet supporters. The winner of the race gets a hefty cash prize, and it's implied that he or she would be taken care of for life.
What Thisby lacks in resources, it makes up in an abundance of blood-thirsty sea monsters that only look like regular horses but have a tendency to be…carnivorous, quite carnivorous actually and unpredictable. Riders of the Scorpio Races have to either buy or catch a capaill uisce, train it (while avoid getting eaten themselves), and train it well enough so it could run in a race. For Sean, this is hardly work, but dedication and a life-long love for horses, both land and water kind. For Puck, it's a matter of survival and obligation. Her parents were most likely killed by these things, and their deaths hang over her head every time she gets near a capaill uisce.
Puck, on her love for Thisby
I realize then that I can't remember how it is that we found out that our parents were dead. I just remember them going out to the boat together, a very rare occasion indeed, and then I remember knowing they were dead. Not only can I not see the face of who told us, I can't even remember the telling. I lie there with my eyes tightly closed, trying to bring the moment back to focus, but all I can call up is Sean's face and the sensation of the ground rushing by beneath Corr.

I think that's the mercy of this island, actually, that it won't give us our terrible memories for long, but lets us keep the good ones for as long as we want them.
It's inevitable for these two kids to get together. They share similar past experiences and a love for horses which only bring them closer together. But the romance, though light and implicit, takes a backseat to the races, the capaill uisce, and most of the story. Both Sean and Puck have a lot riding on the races this year, and they both have to win because their livelihood depend on the prize money, but many obstacles stand between them and the finish line, mainly jealous vindictive son of a wealthy man and Puck's inability to handle a capaill uisce.
Puck again, on her uncertainty
I balance my cakes in one hand and take Dove's reins with the other, leading her toward the cliffs. I think about George Holly's comment about food tasting better in memories. It strikes me as a strange, luxurious statement. It assumes you'll have not only that moment when you take the first bite but then enough moments in front of it for that mouthful to become a memory. My future's not that certain that I can afford to wonder what will become of the taste later. And in any case, the November cake tastes plenty sweet to me now.
Lovely story, beautifully told.
I really like Maggie Stiefvater's writing and will definitely look for more of her work in the future. I think she has a uniquely easy way with words and the story just pours off the page effortlessly. I'm most impressed by her control of the story and the ways in which she incorporated the water horse mythology into the narrative. And I like that she deviated from most YA fantasies by not letting the romance subplot take up too much time and space. It's more part of the setting than the plot, and that's something we don't see much in YA.