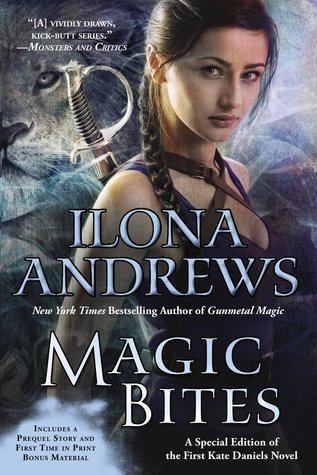 Rating: ★ ★ ★ ★ ☆
Date Read: July 22 to 24, 2014
Read Count: 1
Recommended by:
Recommended to: anyone looking for non-PNR urban fantasy
Weird, dark, gory, and dystopic are key descriptions that often promise a good read to me. And weird, dark, gory, and dystopic in urban fantasy is a guilty pleasure. Throw in ancient dark magic, hostile otherworldly creatures, and lots of urban decay and I'm hooked. What Ilona Andrews has done with Magic Bites is tailored it to my unique taste in urban fantasy. So then why only 4 stars? Because there are things about the magical hierarchy and factions of the city that I still don't understand. For once, a little info-dump would've been a welcomed sight. More on this below.
Some time in the distant future, Atlanta has been turned into a decaying playground for various creatures that no longer need to lurk at night. They're all out in the open now, living somewhat casually among city dwellers. The authorities are aware of them and work with them or, in most cases, around them. The city and surrounding areas sometimes experience these magical surges, not unlike electrical power surges, that affect anything dependent on magic. Of course the creatures are affected, but also technology too because, in this world, machines runs on magic. Magic is as much a part of everyday life as electricity because it generates electricity, I think. So not unlike clean energy lol. (Not much is said about what causes these surges or what really goes on during them.)
Not much is said about the authority or whatever ruling body or bodies overseeing Atlanta either–this is what's still bothering me. Then in comes Kate Daniels, she of the mysterious powers and lineage, to save the day. By day, she's a mercenary who works odd jobs to get by, and by night, she kills things with her wicked sharp sword. Instead of joining a police-force-like guild like a skilled practitioner should, she takes on other people's magical problems for very little pay. Not much is said about why she does this either; only passing hints and excuses are dropped. I expect more will be revealed in later books.
At the start of the book, Kate finds out a loved one has been killed in the job. So she finally agrees to work on the case for the Guild (equivalent to police department), hoping to solve the case as well as his murder, and she does but it takes her right into the heart of an otherworldly power struggle. Moreover due to her unique blood, she finds herself a target of an ancient abomination. But things aren't always so dark. Along the way, Kate befriends a host of interesting characters that give her grief, like that lion on the cover.
I had a good chuckle when the lion was introduced since I had initially expected it to be some kind of house pet or bodyguard.
*
* *
* * *
* * * * spoilers below * * * *
It's been awhile since I last came across satisfying urban fantasy. For every series I liked, I bumped into at least 5 that I hated for whatever reason (mostly because they're terribly written), and after awhile I just gave up on the genre. Too much work wading through mediocre writing for too little payoff. My time was better spent exploring other genres that had higher odds of hitting a satisfying read. But then Ben Aaronovitch came onto the scene and shortly after that I found Liz Williams. Both restored my faith in UF, but I still thread carefully around any book with the UF label.
I'm glad I'd gone with this book though. It's a surprisingly satisfying read, and I hope it continues to be satisfying, but more importantly, I hope it doesn't become another PNR series. There are already too many of those floating around.
One last thing, the Atlanta in the setting doesn't seem characteristic of the city itself. Sure, there's been major changes like magical surges and shapeshifters running about and whatnot, but underneath it all, a famous city in any fictional setting has to at least retain some of its real characteristic traits. Other than showing familiar landmarks and street names, the Atlanta in the book doesn't seem very much like Atlanta. Instead it reads like present-day Detroit in mid-summer. I know both city almost by heart, and I think that's the second thing that bothers me most about this book–it feels like it's set in the wrong city. Anyway, that's just a minor detail that can be easily overlooked.
[1] blood and bone magic, usually the kind that requires sacrificial offerings of one's own body or another's
[2] The lion was the deciding factor that initally drew me to this book. I'd been debating whether to choose it or Faith Hunter's Skinwalker (Jane Yellowrock series) or Patricia Briggs' Moon Called (Mercy Thompson series) to read first. The lion won out by a hair.