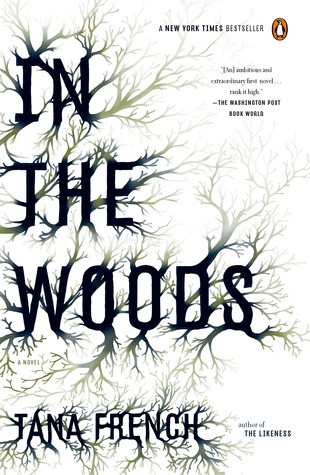 Rating: ★ ★ ½ ☆ ☆
Date Read: September 30 to November 06, 2014
Read Count: 1
Recommended by: a lot of people
Recommended for: people who like contemporary murder mysteries
It's been some time since a book has given me book-review pangs[1], and up until now, this has only happened to Neil Gaiman's books. I'll do my best to explain why In the Woods isn't sitting right with me.
Losing a chunk of your memory is a tricky thing, a deep-sea quake triggering shifts and upheavals too far distant from the epicenter to be easily predictable.
So begins the story of Dublin Murder Detective Rob Ryan. In 1984, he and his best friends Jamie Rowan and Peter Savage went into the woods near their houses in Knocknaree like they've done every day, but this time only Rob came out. Jamie and Peter remained missing, and Rob has no memory of that day or the weeks and months afterward when all of Ireland searched frantically for his friends. He did his best to forget that time in his life, and the case stays cold over twenty years later. Fast forward twenty-something years and Rob has become a detective. He lands a murder investigation that leads him back to Knocknaree and forces him to get uncomfortably close to the truth. The new murder and the missing children case have an awful lot in common, but are they related?
Tana French is a good writer and she can certainly spin a page-turning tale. I was quite impressed with everything she's done in this book when I first finished reading, but after going through a second time, I'm no longer impressed by the nostalgic tone or narration, and moreover, the characterization of Rob Ryan is no longer sympathetic or compelling and the mystery of his childhood no longer that interesting. It's actually really frustrating to watch him struggle to find answers, and this only highlights the fact that he's a terrible detective, unfit for this type of work and certainly unfit to work on a case that hits so close to home, literally. And not for one moment did I believe he wanted to solve the mystery of his past. He might've been led to believe that he wanted answers, but not truly.
The current murder mystery of young Katy Devlin is the push Ryan needs to delve further into his past. Other than that, this case is little more than an afterthought. If you ignore the nostalgia, the nice way French has with words, and most of Ryan's shortcomings, you might be able to figure out who killed Katy after a few chapters into the story. Ryan knows, or should have known, who the killer is, but he's so wrapped up in his own world he fails to put the pieces together.
It usually takes a lot of persuading and convincing to get me to pick up a strictly contemporary (non-SF/F) mystery because all the books I've tried these past few years have been duds–Gone Girl, Defending Jacob, almost everything by Dean Koontz, everything by James Patterson, and many more, most of which were probably abandoned half-way through. While I like French's writing, I'm lukewarm on her take on murder mysteries. This is a problem because I have 2 other books in this series on hand (The Likeness and Broken Harbour). Cassie Maddox's story has piqued my interest, but I'm not convinced it would turn out any different than this book.
I was reading Foxglove Summer simultaneously with this book, and I think that probably influenced how much I liked it, but now that the fog has cleared and the pleasant summery feelings worn off, I can actually see this mystery for what it is and I'm disappointed. There's a lot of potential in the set-up and events leading up to what I thought would be some sort of resolution, but the story just falls flat half-way through and fizzles out at the end. Or rather, Rob Ryan falls apart and loses his way too easily. Very unsatisfactory for such a promising backstory.
[1] Review pangs are a series of conflicted thoughts and emotions I have concerning a specific book or author that render me undecided.
*
* *
* * *
* * * * full spoilers ahead * * * *
There was a time when I believed I was the redeemed one, the boy borne safely home on the ebb of whatever freak tide carried Peter and Jamie away. Not any more. In ways too dark and crucial to be called metaphorical, I never left that wood.
The mystery of Ryan's childhood doesn't get resolved in the end. Sort of a cheap cop out now that I think about it, but perhaps, like French says, the ending stays true to Ryan's character. The answers he's looking for are right inside his head, if only he has the guts to go looking for them. But true to his character, he will always shy away as soon as he gets too close.
I am not good at noticing when I'm happy, except in retrospect. My gift, or fatal flaw, is for nostalgia. I have sometimes been accused of demanding perfection, of rejecting heart's desires as soon as I get close enough that the mysterious impressionistic gloss disperses into plain solid dots, but the truth is less simplistic than that. I know very well that perfection is made up of frayed, off-struck mundanities. I suppose you could say my real weakness is a kind of long-sightedness: usually it is only at a distance, and much too late, that I can see the pattern.
This is precisely why I don't care for first person narration. Too much of the story depends on the strength of one character, but Rob Ryan doesn't have what it takes to carry the story forward or end it in a satisfactory manner. I don't mind open endings, if it's a true cold case, but this is fiction. So there's some control over the resolution. It doesn't make sense to me when authors write fiction without resolutions. It just looks careless and sloppy, even though French has good reason for "wrapping up" her story that way.
What I warn you to remember is that I am a detective. Our relationship with truth is fundamental but cracked, refracting confusingly like fragmented glass. It is the core of our careers, the endgame of every move we make, and we pursue it with strategies painstakingly constructed of lies and concealment and every variation on deception.
I must admit I fell for this line at the beginning, and for a short time, I believed Rob Ryan was single-mindedly digging up repressed memories and doing everything he could think of to get to the bottom of what happened to Peter and Jamie. But I was wrong. Rob Ryan is a good liar, but not so good that you can't see right through his woe-is-me personality.
Katy Devlin's murderer is revealed to be her manipulative sociopathic sister Rosalind and her pawn of a boyfriend whom she tricked into killing Katy. The whole reveal is quite contrived and there's a lot of stretching and reaching on the author's part to make the resolution fit the set-up of the mystery. Rosalind gets off on a technicality–she's a few months shy of 18 when she confessed and so her confession has to be thrown out. Seems very uncharacteristic of Cassie Maddox not to notice that a key witness (and suspect) isn't of consenting age when she questions her without a parent present.
One of the few things that's still interesting to me is the setting. Knocknaree is a sleepy contemporary town outside of Dublin where not much happens, except that one summer in 1984 when three 12-year-olds went missing and only one was found stripped of his memory. French does a great job of painting a picture of Ireland today, dotted with housing developments and many more projects on the way. Even small towns like Knocknaree are expanding to support a growing urban population. The sudden change in lifestyle has brought big business to small towns which pushes the locals off their land. This is happening all over the world, but it's specifically interesting in Ireland since land is tied to family and heritage that date back to the Medieval ages.