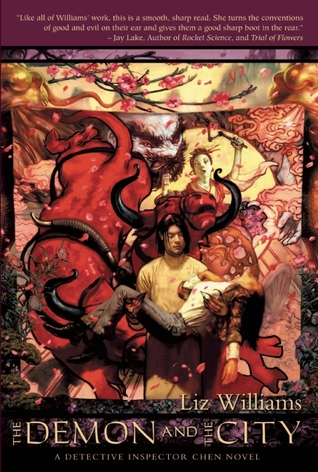 Rating: ★ ★ ★ ★ ☆
Date Read: December 30, 2014 to January 4, 2015
Read Count: 1
Recommended by:
Recommended for: people who are tired of average urban fantasies
Detective Chen Wei goes on vacation for a couple of weeks and the whole city of Singapore Three goes to Hell. Literally, not in a hand basket though. More bad puns below. You've been warned. (j/k)
After helping Chen unravel Hell's plot in Snake Agent, Seneschal Zhu Irzh has decided to stay on Earth to assist Singapore Three's police department during Chen's leave. The work is fine for Zhu Irzh who works in vice back in Hell, but he finds it hard to fit in at the PD and stay in Captain Sung's good graces, being demonkind and all. His only ally other than Chen is the affable Sargent Ma, who is usually easy going but has a general distrust of all things from Hell. As he makes his way around the city to investigate a socialite's gruesome murder, Zhu Irzh stumbles upon a sinister force brewing right beneath the city. Then a feng shui dowser is murdered and Zhu Irzh feels himself losing control, but before he could investigate further, he finds himself entwined in an affair with an associate of that sinister force.
Robin Yuan, a young woman from an impoverished background and the girlfriend of the dead socialite, is also entwined in this affair–no, not like that. She works for Paugeng, a huge shady pharmaceutical corporation that more or less owns Singapore Three, and she has the misfortune of being assigned to a top-secret experimental drug project that, if successful, could bring down the walls separating Heaven and Hell.
Jhai Tserai, showrunner of shady Paugeng and a shady character herself, is trying to keep the company's secrets under wraps and her own secrets buried, but Zhu Irzh is making life inconveniently difficult for her. She may or may not have a hand in the socialite's and dowser's murders or have strong ties to Hell, and she may or may not be conspiring to bring down the walls between the worlds.
Mixed up in all of this is Mhara, a creature of mysterious origins. He is one of Paugeng's secret experimental projects and holds the key to bringing chaos to the shores of Heaven. But unfortunately for Paugeng, he escapes from a testing facility and, unfortunately for Jhai Tserai, he is running loose in the city.
More chaos and conspiracy (and hilarity) ensue when Chen returns from vacation to find Singapore Three in a state of upheaval, so close to the Day of the Dead, when the barriers between the worlds grow thin. He and Zhu Irzh work frantically to unravel this mess with barely enough time to capture the sinister force and save the city.
The second half of this book is a buddy-cop romp through the Night Harbour, a pergatory-like space in between worlds. Chen takes on the role of the straight laced, by the book, good cop and Zhu Irzh is the corruptible agent from the wrong side of the tracks; together they make a fun pair, with Zhu Irzh being the punchline to most jokes, and their chemistry/partnership breathes life back into the story.
The demon had bridled. "I'm not unremittingly evil—and me saying that just goes to show that I'm not a typical demon. I have feelings, too. I have a conscience. I helped you save the world, didn't I?"

Chen, though conceding that there was a measure of truth in this, had remained resolute. "I don't think you're unremittingly evil," he said. "I just think you're . . .slightly dodgy." Zhu Irzh had pretended to be annoyed, but admitted to himself that Chen might have a point.

[…]

"So having established Jhai Tserai as principal suspect, you brought her back here and spent what is by all accounts an active night with her? In my bed?" [Chen said]

[…]

"She turned up here, one thing led to another, and next thing I knew, we were in bed. And I'm sorry it was yours, but it is the only bed here. I promise I'll wash the sheets."
That's what the first half of this book is missing, this strange yet familiar connection between Chen and Zhu Irzh that started in the first book. Oh, and the Badger teakettle is grudgingly funny too. That's not to say the events prior to Chen's return are boring; it's just different like an unexpected break from narrative. An investigation and near-apocalypse without Chen's involvement seem out of balance somehow, as he is the element that ties everything together. When he returns, the investigation is steered back on track and the story has a sense of direction again.
Liz Williams' characterization is once again compelling and thorough; even minor characters, like gods and goddesses that may or may not reappear in later books, get enough page time to lend them an air of importance.
When [Chen] had finished [speaking], the goddess was silent for a long time. She was so still that Zhu Irzh wondered whether she might have returned to her marble form: he'd seen her do that before, the Celestial equivalent of locking oneself in the bathroom and having a long think.
Zhu Irzh's thought process always amuses me. He's so uninhibited compared to the tightly wound citizens of Singapore Three who are constantly worried about Heaven and Hell. Williams tucks numerous interesting insights of each new character into the story and adds more layers and depths to existing ones, the most compelling being Zhu Irzh always feeling at odds with himself for going against his demonic nature. The mysteries aren't as engrossing to me as following these characters on their individual quests, whatever those may be. Most importantly though, these characters and their trials and tribulations seem real in the context of this world.
What I love most about Williams' writing is her sense of world-building. It's descriptive and atmospheric without getting in the way of the story. Every street and ally, storefront and vendor, harbor and dock, right down to the smells and tastes of the air, is embedded in the story. Singapore Three, though fictional, comes alive not just as scenery or background noise but as a character. Every neighborhood featured has its own unique flavor and feel, and the experience of reading this book is like entering a virtual world.
What starts out as a gruesome murder is actually a plot to bring down the Celestials. Not as convoluted as it may sound though. It's rather poignant that Williams is able to put new spins on classic Chinese mythology and philosophy while adding her own take on life in a crowded bustling city.
"Whatever Heaven might say, it does not understand what it's like to be human. It doesn't understand the stresses that you live under." [Mhara said]

"You said we had a choice," Robin pointed out, "and we do."

"But sometimes it isn't possible to see that. Life and living obscures it, makes it disappear. Don't underestimate how hard it is to be alive. I did not understand that before I came here. Heaven entombs itself in perfection; Heaven has forgotten. Perhaps, Robin, it is that Heaven is not good enough for you."

"That sounds like heresy," Robin said, with unease. "Whatever religion one might practice."

"Then maybe the heretics are right."