Forgot to mention in the last post that this is an ongoing meme circling around twitter, and I was tagged by a few people whose tweets I can't find anymore because twitter is a mess and looking for specific tweets always gives me a headache. So I'm doing the questions here.
DNF
Just recently I had to shelve Eye of the World for the third time. No reason other than a case of "wrong time, wrong book," which happens to be a recurring theme for me when it comes to traditional high fantasy. Eye of the World was picked by one of my GR book clubs and I had every intention of finishing it by the end of May. And I actually got past all the world building this time around, but then my work load piled up and other books, more interesting and more time consuming, got in the way–specifically The Quantum Thief by Hannu Rajaniemi, which took me longer to get through and unravel than I intended. Then Stories of the Raksura, Vol II arrived in the mail, and all my focus and energy went into not devouring it in one night. And that was it for the rest of May. There was just no chance to finish Eye of the World and I got tired of pretending like I could, so back on the shelf it went.
Best Ending of book or series
In terms of execution, it's a tie between Cloud Atlas by David Mitchell and House of Leaves by Mark Danielewksi, which is funny because they're polar opposites. One is order and the other chaos. But they both experiment with different styles and voices to weave several narratives together, and I think the result is the most interesting I've ever read. Both endings are astounding and stay true to the structure and nature of the books. Cloud Atlas ends in an orderly fashion, just like how it starts. Everything comes full circle and it's quite poetic to see all the pieces falling into place. House of Leaves, on the other hand, ends with a feeling. You know that feeling you have as you're drifting off to sleep and you suddenly find yourself diving head first into an abyss and you jerk awake with your heart and adrenaline pumping full force? House of Leaves left me with that feeling. I'm still not sure what that means though.
But in terms of surprise, I would have to say The Giver by Lois Lowry. The ending is left wide open, and that surprised me most about this book. Since it's YA, I was expecting most loose ends to be wrapped up in a tidy (albeit rushed) ending, but the book ends abruptly in the middle of a scene, if I remember correctly. I haven't read the sequels, so I don't know how Jonas' life turned out or what became of the baby Gabriel, and I think it's better that way, not knowing. Because knowing would ruin the jarring impact of the book.
Book that gave you the most FEELZ
Basically everything I've read by Octavia Butler. Unexpected feelz are the best and most memorable feelz, and unexpected feelz about ambiguous shapeshifting gender-defying aliens are feelz that stay with you long after you finish reading.
But if I had to pick just one book, it would have to be… A Monster Calls by Patrick Ness. The writing is beautifully devastating. Even though I knew what would happen, I still wasn't prepared for the ending.
"I wish I had a hundred years," she said, very quietly. "A hundred years I could give to you."
Gets me every time.
Currently reading: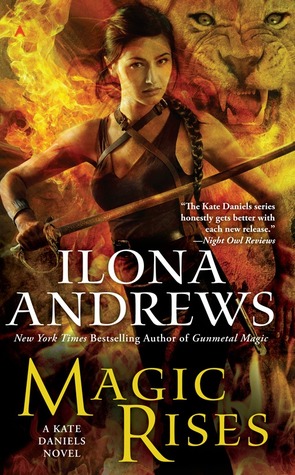 Magic Rises (Kate Daniels, #6) by Ilona Andrews
With Magic Shifts (#8) coming out later this summer and Magic Breaks (#7) arriving in the mail today, I figured it was time to get reacquainted with Kate Daniels and her chaotic, over-the-top, post-apocalyptic world. It's a world I love with characters I'm fond of. My only complaint though is the focus of the series shifting away from Kate with the addition of so many new characters. It's become more like an ensemble cast but with Kate still as the main POV. Another thing is the shift from Kate's life as a lone-wolf mercenary to her domestic life as Curran's mate. Just seems odd is all and somewhat difficult for me to adjust to, mostly because I find Kate being on her own much more interesting than her settling down–figure of speech, of course, since nothing settles down in this world.
While I recall books 1 through 5 just fine, I'm having trouble remembering the events of Magic Rises. I tacked it on on the tail end of an energetic UF marathon and I was just short of burning out by the time I finished, so there might have been some breezing through and skimming past key sequences of the plot. The only things coming back to me now is Kate settling into her role as the Pack's mistress, the Pack's trip to Europe to help solve the European Pack's problems, a beloved character dies, and some new ones are added to the ever-expanding Pack family.
Since I recall so little of this book, it'll be like reading it for the first time.
TBR soon:
something by Tanith Lee (haven't decided yet)
She passed away recently and a post on bookriot lists 3 books as possible starting points for people who have never read her. And I'm among them but I've always been meaning to read her–is what we all say. Don't know why I kept pushing her books further down my list in favor of other lesser works, but no more. I'm gonna read something by Tanith Lee this summer.
People say she wrote great stories and had a beautiful way with prose.
Though we come and go, and pass into the shadows, where we leave behind us stories told–on paper, on the wings of butterflies, on the wind, on the hearts of others–there we are remembered, there we work magic and great change–passing on the fire like a torch–forever and forever. Till the sky falls, and all things are flawless and need no words at all.

(quote from io9)