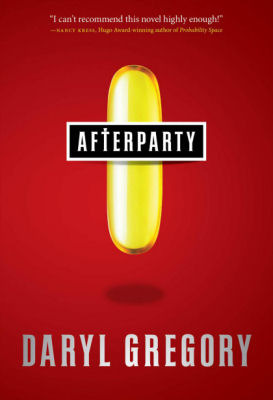 Rating: ★ ★ ★ ★ ★
Date Read: March 11 to 26, 2015
Read Count: twice in a year, which is unheard of for me*
Recommended by: Tor
Recommended to: people who like smart sci-fi thrillers
This is one of those rare books I wouldn't mind if there's a sequel. Actually, I would love it if there's a sequel, but currently there's nothing planned. But how do you know that? you might ask. It's because I've asked and the answer is no. Well, it's actually "I don't know yet" which looks promising but it usually means no. "Good news" though, the book has been optioned by HBO. Normally I'm indifferent to book adaptations, but this time I'm sort of interested in what HBO will do with the source material.
I've been trying to write about this book for months now, but couldn't figure out how without giving too much away. So I went back with the intention of skimming it, but ended up plowing through half the book in one sitting. It's just as good as I remember, maybe even better this time around because I know how the story ends. It's more than just a good book. It's unlike any I've read in the genre because it's the kind of book you come to expect from Daryl Gregory if you've read him before. He's one of the few writers today who can spin a fascinating genre-blending tale that plays with tropes while challenging them, and there are so many things he gets right that any story in his hands is sure to be great.
So what is this book about? Kinda hard to sum up, but simply put: it's a parable set in the not-so-distant future about a road trip, faith, belief, and drugs. A wild combination which makes for a wild ride with lots of action and a great cast of memorable characters, but it's not all fun and games though. Dark subject matter, such as addiction and PTSD, are explored with some depth throughout the story, but despite the seriousness of these things, the story is a fast and easy read because the writing is in no way preachy or weighed down–it's actually a lot of fun with quite a few funny moments in between the action. What I like most about the direction Gregory took with this book is it's never too serious or takes itself too seriously, but the execution is always clear and poignant with just enough ambiguity to leave you thinking about a host of things long after the journey is over.
The story opens with a nameless teenager joining a cult and taking a drug called Numinous which lets her communicate with a higher power–God, or what she imagines as God. It's an enlightening experience unlike any she's ever had. God not only listens to her, but he also responds. It's a relationship, one that quickly becomes addicting. Then she is institutionalized. With her connection to God cut off, she commits suicide. Lyda Rose, one of the original creators of Numinous, is also institutionalized in the same facility. When she hears about Numinous, she suspects someone from her old research group has been illegally distributing the drug again. So she and her girlfriend Ollie break out of the ward to stop the production. The trip takes them from Toronto to New York and all over the US, tracking down the person or people behind Numinous' untimely resurrection.
A little background: in this not-so-distant future, 3D printers, called chemjets, can print any kind of drug and any combination of drugs you can imagine. In theory, anyone with some knowledge of pharmacology can use these chemjets to whip up a party drug, but in the hands of a group of young mad scientists, chemjets can work miracles. They can create Numinous, a neural pathway-opening dose that lets you commune with deities. It's addictive and destructive but in the most fulfilling way which is one of the many unexpected side-effects and consequences of Numinous that Lyda Rose and her team didn't anticipate.
So who is cooking up Numinous again and what are they planning to use it for? The mystery will keep you guessing until the very end as Lyda and Ollie track down members from her old research group for answers.
Another thing I love about this book is the cast of characters, not only Lyda and Ollie but the characters they meet along the way are a lot of fun too. Ollie herself is a former federal agent with strange lethal abilities and questionable knowledge. There's Bobby the emergency roommate whose soul lives in a plastic toy chest he wears around his neck. There's Lyda's former drug dealer, a savvy business man operating on college campuses under a frat-boy disguise. There's Dr. G, a snarky semi-omnipotent sword-wielding avenging angel that only Lyda can see. Then there are the territorial hijab-wearing pot-dealing grandmothers and their thugs in Toronto. And of course Lyda's old friends and their deities, all of which are too spoilery to mention in detail.
Everything about this book is a lot of fun, more fun than you'd expect from a story about mind-altering chemicals, religion, and sanity. The writing is especially a lot of fun, as evident here.
There was a scientist who did not believe in gods or fairies or supernatural creatures of any sort. But she had once known an angel, and had talked to her every day.
[…]
A BS in any neuroscience without a master's or PhD was a three-legged dog of a degree: pitiable, adorable, and capable of inspiring applause when it did anything for you at all.
[…]
Fayza leaned in, squinting, as if she didn't hear me correctly: one of the library of power moves that adults used to signal that other adults were fucking idiots.
[…]
Love at first sight is a myth, but thundering sexual attraction at first sight is hard science.
[…]
I've always been a sucker for the beautiful and the batshit crazy.
* I'm going through a reading slump which is nothing new. This happens at the end of every summer. I've come to expect it around this time of year, but it feels a little different this year, a little more prolonged. Don't know why. Maybe it has something with N. K. Jemisin and her Inheritance trilogy, or maybe it's The Birthgrave. These books were quite good, quite out of this world (literally), and I'm still not quite over them yet since they left me with a sort of brain-scrambling effect that makes it hard to move onto to new worlds with new characters and new adventures. So I went back to an old world and familiar characters. Don't think they'll cure my slump, but they got me reading again and that's a start.