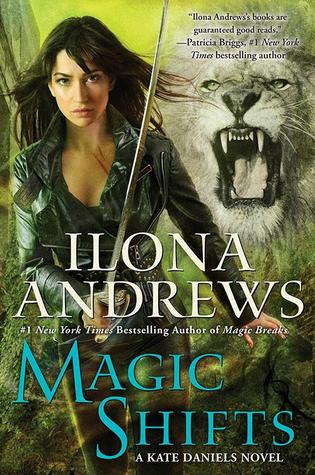 Rating: ★ ★ ★ ★ ☆
Date Read: December 29, 2015 to January 01, 2016
Read Count: 1
First book of the new year and it's a good one. This is another solid addition to the Kate Daniels series, and I enjoyed it immensely because I'm a huge fan, but I must admit I agree with the few reviewers who called it a "filler." Tensions are building and Kate continues to learn more about her powers, as well as limitations, as she prepares for the inevitable showdown with Roland.
While it may be filler, what we do get to see in this installment is the main cast of characters evolving (almost everybody) and maturing (esp. the kids–Julie, Ascanio, Derek). Their characterization becomes stronger, more solid. There's more depth to their personalities and inner lives, even though the story is told from Kate's POV.
Much of the action and story arc reminds me of Kate's earlier books when she was just a mercenary, going about her life trying to stay under the radar. But since she's no longer just Kate, the problems she faces these days are more layered and complicated by her social and political status. And even though she's no longer the Pack's consort, she still has a lot of pull with every faction in Atlanta. Technically, they all belong to her now that she's claimed the city, but she isn't the tyrannical type of leader, not her father's daughter. I like that she would rather build a home and live a nice quiet life with those she loves than use her powers to build empires. In that, she's still Kate.
The mystery in this book starts out like those in earlier books: someone in a bind (George) comes to Kate for help and she has to get to the bottom of it as a life hangs in the balance (Eduardo), but the job turns out to be much more complicated the more she delve into it. The investigation uncovers a new monstrosity wreaking havoc on the city, and as the land's protector, Kate has to put an end to it. And of course she does it in classic Kate style: butting heads with almost every single faction within the city. The difference this time is there are serious physical consequences to her usual bashing-in-heads style, which forces her to put her whole life in perspective. The story is pretty much straightforward from there with a few interesting detours in the road[1].
The highlight for me is the depth of the mythology. Like in previous books, the Andrews (the Gordons?[2]) delved deep into existing folkfore, added their own spins, and came up with creatures that are recognizable in form but alien in intellect. This was the one thing, aside from Kate herself, that kept me reading this series; other paranormal urban fantasies of this kind just can't compare because they always fall short on mythology–they also have TSTL heroines running amok, but that's another thing entirely. And so it's always a pleasure to come back to Kate's world and be introduced to new monsters and discover the extent of their existence in Post-Shift Atlanta.
Perhaps the only thing I like more than this world's monsters and mythology is the humor. Kate and Curran slowly and unsuccessfully adjusting to civilian life is pretty funny. I expected that, but how it plays out made me laugh out loud. Of course, it wouldn't be the suburbs without a Homeowner Association president-wannabee criticizing the "health" of your lawn…or suggesting that your hunny-bunny not prowl the neighborhood every night in his beast form.
"You see, the mailman saw your husband during one of his walks."

"He's my fiancé," I told her. "We are living in sin."

Heather blinked, momentarily knocked off her stride, but recovered. "Oh, that's nice."

"It's very nice. I highly recommend it."
[…]
"Did you see the mailman while doing your rounds yesterday?" I asked.

Curran's face turned carefully blank. "Yes, I did."

"Did you do anything to scare him?"

"I was perfectly friendly."

"Mhm." Please continue with your nice story. Nonjudgmental.

"He was putting things into the mailbox. I was passing by and I said, 'Hello, nice night.' And then I smiled. He jumped into his truck and slammed the door."

"Rude!" Julie volunteered.

"I let it pass," Curran said. "We're new to the neighborhood."

The former Beast Lord, a kind and magnanimous neighbor. "So you sneaked up behind him, startled him by speaking, and when he turned around and saw a six-hundred-pound talking lion, you showed him your teeth?"

"I don't think that's what happened," Curran said.

"That's exactly what happened, your Furriness."
Overall this was another satisfying read and a great way to kick off the new year. Always pleasure to return to one of my favorite worlds.
Footnotes below the cut:
*
* *
* * *
* * * * spoilers * * * *
[1] lingering side effects of her stroke, i.e. the physical consequence; dinner at Applebee's; shaking up the Mercenary Guild; suburban problems
[2] I just learned their real names, and it only took about a dozen books for me to get there…
Alternate book title: The One Where a Djinn Kidnapped Eduardo. Or… The Dinner with Roland at Applebee's?