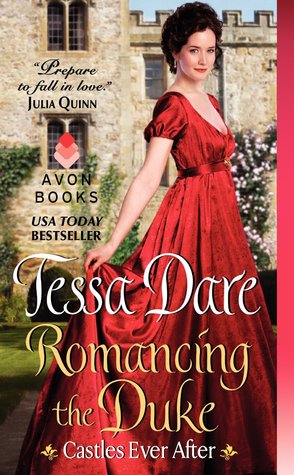 Rating: ★ ★ ★ ½ ☆
Date Read: September 06 to 07, 2016
Recommended by: the Vaginal Fantasy group
Recommended to:
A very light and sweet tale that's at times adorable, but not precious or twee.
What started off as a light Beauty & the Beast retelling turned into something unexpectedly sweet half-way through the story.
After having lost her father to old age and his whole estate to a distant male cousin, Izzy is left penniless, save for a strange inheritance from an estranged godfather. He left her a castle, but not a dreamy, happily-ever-after kind of castle. It's old and decrepit and on the verge of becoming a pile of rubble–so more of a fixer-upper–but it's her castle officially, she even has the paperwork to prove it. However, there's one big problem. The castle also comes with its previous owner, Ransom, Duke of something or other–I forgot, it's been a few months. Anyway. He's brooding, snarling, infuriating man who's determined to kick Izzy out so he could reclaim his castle, but since the castle is her only shelter, she fights him for it.
They get off to a rocky start, but of course there's simmering mutual attraction and I have to say their battle of witty repartee is pretty funny. Romance isn't my preferred genre; cutesy historical romance written with the modern audience in mind is even less so, if that's even possible, but I've been trying to read more to broaden my horizon and whatnot. When it's done right, when there's a balance between plot and romance, it's pretty good. So I've been following along with the ladies of the Vaginal Fantasy book club for most of the year now and… meh. Their book picks have been all over the place in terms of content and quality of writing, and not one book has impressed me yet. That is, until this one came along. I found it very engaging, even with the rocky start at the beginning, and Izzy and Ransom are pretty good together. But still, I have yet to find books with that balance I'm always looking for.
Another thing is I don't normally enjoy traditional happily-ever-afters romances–which is basically all of them, right? They contain too many unnecessary explanations of things that should be left up to the reader to infer or figure out, such as the heroine's and the love interest's mutual attraction, sexual tension, and budding relationship. No need to spell it out. I can't stand it when these things are explained, sometimes almost to death, because it's too much telling and gets to be repetitive further into the story. Another thing I can't stand is how strickly heteronormative these types of romances are. It's expected that the main couple are, but must every other character in the book be so as well?*
So in spite of all of that, I did like this book and found myself enjoying it for its many, rather noticeably modern, details and embellishment, which were definitely a bit jarring and took me out of the Victorian setting (or was it Edwardian?), like the characters' modern sensibilities, specifically Izzy's open-minded views of sex and relationships and her noticeably lack of uptight-ness, and the hilarious cosplaying troupe of devoted fans following the her around the country. And the humor. It was, once again, unexpected and enjoyable. I found it neither cheesy nor eye-rolling, and it was one of the things I liked most about the read.
"Every time you wake up, you let fly the most marvelous string of curses. It's never the same twice, do you know that? It's so intriguing. You're like a rooster that crows blasphemy."
[…]
Izzy was utterly convinced. Never mind Arabian horses, African cheetahs. No creature in the world could bolt so quickly as a rake confronted with the word "marriage." They ought to shout it out at footraces rather than using starting pistols.
[…]
Why must this be so mortifying? Oh, that's right. Because its my life.
[…]
Astonishing. In the morning, when she sat working at that table of correspondence, silhouetted by sunlight . . .

Her hair truly did look like an octopus.

It was the way she wore it, he thought. Or maybe the way it wore her. It all sat perched atop her head in that big, inky blob. And no matter how strenuously she pinned it, dark, heavy curls worked loose on all sides, like tentacles.

Of course, it was an entrancing, strangely erotic octopus. Ransom worried this might be how fetishes developed.
*And must they all get their own spin-off novels so they could all live out their own happily-ever-afters which pretty much mirror the first book's plot? Why can't some of them end up divorced or widowed and spend the rest of their lives partying from one country estate to another, from one affair to another? Oh, wait, that's not a romance… but definitely something I would read.