Rating: ★ ★ ★ ★ ★
Date read: February 22 to April 5, 2017
I meant to take it easy, but ended up blowing through the second half of this book in just 3 days. The pages just kept on turning by themselves, and I didn't get much sleep.
Woke up this morning and was like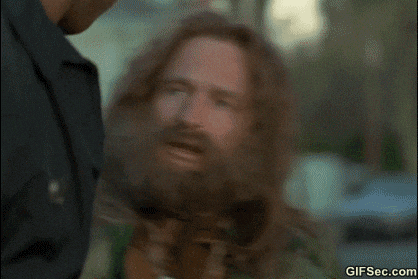 But seriously. What year is it?
This is not a review because I don't have enough science in me to understand it or to begin diving in and deconstructing it, but I did enjoy it very much and it's easily one of the best books I've read this year, maybe even this millennium. Will have to return for a few more rereads because I'm pretty sure I missed a ton of details in my rush to get to the end.
The concept of solar year is tenuous at best in this book because the story takes place six million years from now. I was in a bleak, gloomy, end-of-the-world state of mind when I started reading, so the idea that somehow humanity has a future six million years from now and that it's a thriving future was extremely uplifting. And I approached the rest of the story with that in mind.
So. Six million years from the start of the main plot, the genius Abigail Gentian made an army of clones she called the Gentian Line and sent them out into the universe to learn and collect as much information on any planet with any signs of life as they can for the purpose of trade with alien planets and other clones of different lines. These clones, called shatterlings, reunite every couple hundred thousand years to share their findings, and they've been doing this for six million years.
At the start of the main plot, we follow two of Abigail's shatterlings, Campion and Purslane, on a collection trip to a couple of planets. It's kind of like a sea voyage, but in space, at high speed, and I was totally sucked into the story from the start. The prologue with Abigail as a child was all the hook I needed to jump in. I liked both Campion and Purslane almost immediately and the way they played off one another was very funny–love the subtle humor–and spending more time with them only increased my fondness.
Campion is on a quest, with Purslane's help, to find something of value to bring back for the next Line reunion, but as usual he procrastinated so much that he's behind schedule and would probably have nothing to show. The last time they all met he didn't do very well, and thus the reason for their planet-hopping visits to many different galaxies in a short amount of time. They come in contact with a ton of interesting creatures and entities, many of which exist outside of time and space, and communication with them is fascinating to read about.
On one of these trips, Campion and Purslane come across and see something they shouldn't have. And Campion, being Campion, careless and carefree, does something he definitely shouldn't have, which then sets an unknown pursuer on their tail. The unknown thing goes after not only Campion and Purslane, but the whole Gentian line with the purpose of annihilating all of the shatterlings of Abigail's creation.
It's a race against time to figure out what is after them and how to destroy it, and it had me on the edge of my seat all the way through to the stunning end.
I love everything about this book–the action and adventures, the high-speed chases, the planet hopping, the ingenuity, the breathtaking breadth of deep space, and of course the characters–and yet I don't fully understand any of the high concept science stuff. Love it anyhow though. Will have to seek out a real life science person who has read this book to explain deep space, time travel, astrophysics, the infinite universe, etc etc. to me.
Alastair Reynolds has created something truly special here–a enjoyable balance of interesting storytelling and theoretical science–and my mind is sufficiently blown.