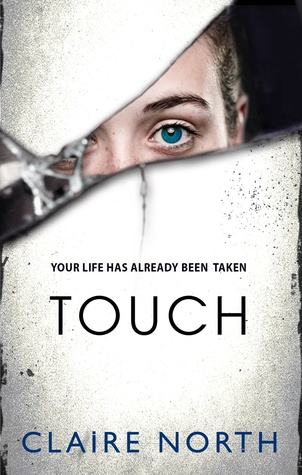 Rating: ★ ★ ★ ★ ★
Date read: January 2 to 8, 2018
This is my first read of the year, and already it's starting out with a high. Solid 5 stars through and through.
So brilliant, so beautiful, and absolutely breathtaking. I have no words for what I am feeling right now after having just turned the last page. And now that this book is over, I am utterly lost. Why couldn't it be longer? Why isn't there more? And yet it ended on such a perfect note. I haven't read a plot coming together this succinctly in a while, so I am currently basking in the brilliance of all the pieces falling into place.
An immortal entity called Kepler has the ability to jump from body to body and take over it completely. He becomes that person for a period of time and lives their life–works their job, interacts with their friends and family, drives their car, wears their clothes, spends their money–and then he jumps to another body when he's done with that life or gets bored. And he's been doing it for centuries. He's lived a multitude of lives, as men, as women, old, young, rich, poor, and everything in between.
And then one day, while in a new body and enjoying the novelty of the new body, he is gunned down on the street. Right after he is shot though, he jumps into this killer's body and takes it over. What follows is an intense, white-knuckle race across Europe to find out who is out to kill him. To do so, he has to work backwards starting with his killer's identity and working back to his associates and all their tangled connections and then all the way back to the person who hired him. Each leg of the journey reveals something shocking about himself, all the lives he's lived, all the people he's known, and the person who's after him.
Kepler is… hard to define and not a character you could easily root for. He's also a lot of things, but at the core, he is selfish. He wants to live and continue living, at the expense of the people whose lives he takes over. All his actions and motivations are aimed at this simple truth: he wants to live. This precisely why I find him totally believable as an immortal. He may be selfish, but at least he's honest about his selfishness and will to live. He makes no excuses because he has this need that drives him to live life to the fullest and experience all that life has to offer, even when it's someone else's life and he is just borrowing it for the moment.
Most of the immortals in books I've read never achieve this level of selfishness or honesty. They were all too human in their wants and needs. Some even went as far as giving up their immortality for love. (Yes, for love… and that's totally believable because… reasons?) Kepler though is utterly, single-mindedly a glutton for life, and he lives in such a way that makes you want to life your life to its fullest potential.
Aside from brilliant, this book is also slippery, difficult to grasp and even more difficult hang onto. It took over my every waking moment for the past week and a half and yet it feels like no time has passed at all. It feels like I inhaled a whole new world in one sitting, and now I am slowly returning to mine and feeling as though something is missing, as though there is a hole the exact shape of this book missing from my life and it's a weighty kind of absence. The remedy for that is to read more Claire North, and I will soon, but not just yet. I'm not ready to move on away from this book yet. This book hangover needs to linger and work itself out before I can move on.
Claire North is a genius, which comes as no surprise to me since I know her from her Kate Griffin days with the brilliant and brilliantly satisfying urban fantasy series Matthew Swift. But this book is something else altogether. Very different, very unexpected, an all-consuming experience I was not ready for. And yet, it has Kate Griffin's fingerprints in the details. So familiar and welcoming, it's like coming home again. No one can make cities, lifetimes, and urban magic come alive like she can.
Meticulously written, beautifully executed. Every word, every line has a purpose. No space wasted. No time wasted. I loved everything about this book.
"Nothing is ever quite enough. No matter who you are, there's always something more to be had, which could be yours if only you were someone else."
[…]
"Their fear is the fear of the funfair ride where reason tells you the seat belt will keep you safe. True fear is the fear of doubt; it is the mind that will not sleep, the open space at your back where the murderer stands with the axe. It is the gasp of a shadow passed whose cause you cannot see, the laughter of a stranger whose laugh, you know, laughs at you."
[…]
"It is perhaps the simplicity of his affection, the patience of his understanding and loyalty that makes him too easy to love, for his love is taken for granted by many, who give back nothing in return."
[…]
"I have no time for boiled sausages, or boiled vegetables of any nature really, and cannot for the life of me comprehend why anyone would still insist on serving dishes whose whole cooking process consisted of exposure to water, to freely invited guests."
[…]
"How the fuck do I know that my better is anything more than the great big fat lie we tell ourselves to justify the slow fat nothing of our days."
I'm not surprised Kate Griffin can write a believable immortal. She can write anything and make you believe it. It's witchcraft.