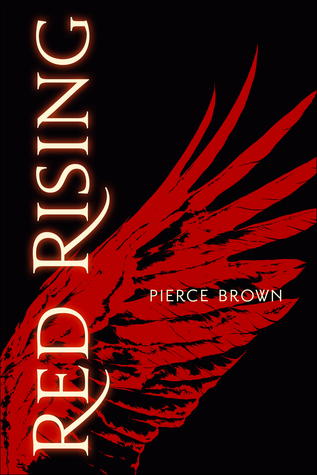 Rating: ★ ★ ☆ ☆ ☆
Date Read: December 28, 2014 to January 9, 2015
Read Count: 2
Recommended by: ads on Goodreads
Recommended for: I don't know
Not your average YA in that it's darker in tone and subject matter, just like The Hunger Games but wordier and not as heartfelt.
I read this book when it first came out and really liked it, but looking back, I think that was because it's so reminiscent of Suzanne Collins' sparse style that it brought back memories of when I first read The Hunger Games. Now that some time has passed, I've come to see that Red Rising doesn't have much going for it on its own. Barely anything about it is original, except for the setting being on Mars. Overall, I found the book difficult to get through a second time, esp the first half, because things I'd overlooked before became too glaring to ignore. If not for the huge buddy read, I don't think I'd get through it.
While it's very much like every other YA dystopian novel published in recent years, right down to the survival-of-the-fittest games and oppressive caste system, Red Rising doesn't have the heart or that spark (or characters like Katniss) to light its pages and carry the story. It's kind of a drag actually–first person POV's usually are for me. Sparse writing about hardship, grief, and loss needs strong characterization to hold the story together and keep readers interested, and sparse writing about hardship, grief, and loss in SFF needs a sense of realness and relatability to anchor it in our consciousness. Furthermore, it needs sharp commentary to make it memorable, to take it to that next level of relevance, but I understand that's not what some authors aim for, which is fine but it's a huge missed opportunity when a book about taking on an oppressive society doesn't take the chance to make meaningful critiques that may or may not relate to current events. Just saying. It's no wonder I don't recall much about Red Rising; it's not the kind of story that stays with me.
All right, on to the actual book. The setting is oppressive, dystopian, and on Mars. The population is divided into groups by the colors of their eyes and other physical and mental traits, all of which are the result of specialty breeding. Golds rule the universe, Reds are slaves, and other colors in between have their own specializations. Eugenics is an interesting theme to explore, but it's not well explored or executed here and that's why this book is young adult and not adult fiction. The scope is rather narrow with the focus being mostly on physical looks/altercations and might, and the single character POV is too limiting.
Anyhow. The Society is especially cruel to the Reds. They work the hardest, have the highest mortality rate, but receive the least recognition and are often scorned and abused by the other colors. This treatment, which goes back centuries, is permitted. The explanation for it is quite contrived, I must admit now that I can't ignore it. And yet the Society has functioned like this for over 700 years. Within the Red population, there is separation between high Reds and low Reds. High Reds are permitted to live above ground and hold menial jobs; low Reds live below ground and never know there's a whole world thriving on the surface of Mars.
Darrow, the main character, the titular Red Rising of this book and Golden Son of the next book, is a low Red helldiver; his fate, to forever live and die underground, and his job, to go deep into to the caverns of Mars and mine precious resources. It's part of the work that keeps the planet running. Most helldivers don't live past the ripe old age of 25. Darrow is only 16 at the start of the book, and he definitely sounds like it–this is what I mean about the scope of the story being narrow/limiting. He's married to his childhood sweetheart, Eo, and what a lovely delicate gal she is. We all know what happens to lovely delicate characters in dystopian fiction–they don't live to see the end because they get refrigerated early. Too early, in this case.
Eo's death is the catalyst Darrow needs to rise up and take action, otherwise he would've been quite content living out the rest of his short life as a Red, burning away in those deadly mines. The real action gets rolling around the time Darrow begins his preparation to be become Gold, but things don't necessarily pick up until more than half way through the book when he successfully infiltrates their ranks and the war "games" begin; I'd forgotten how much you have to wade through before things really get going. New characters, more interesting than Darrow, are introduced when Darrow takes part in these survival "games." And then more things happen and a few characters die violently, and the end of the book makes you want to start Golden Son. That about sums it up.
The writing style is all right most times, though too often it is lofty and repetitive like the way idealistic young people tend to be when they speak of big-idea concepts like freedom and liberty and such. It's not that bothersome once I got used to it, but it definitely took some time getting used to. I'd wager it's the main factor that determines whether or not you'd like this book. I didn't notice it much during the first read, but it's hard to ignore during the reread. Darrow as a narrator is efficient during intense action sequences; Pierce Brown knows his ways around an action scene. However, during lulls between these scenes, Darrow has a habit of reliving past wounds (Eo, Eo's death, Eo's dreams) and wallowing in guilt and despair (Julien, Titus), so much so that it becomes repetitive. He spends a lot of time tearing himself apart all the while trying to survive these war games at this ridiculously sadistic school. I should sympathize, but I don't feel anything for him or any of the other characters.
Your enjoyment of Red Rising will depend on your enjoyment of YA in general and dystopians with YA flairs specifically. While it's better written than others of its kind published in the last decade or so, it doesn't really stand out on its own. For me, this book is a compact review and reiteration of major (YA) dystopian themes and tropes. So it's all right as an introductory crash course, but wouldn't work if you're looking for something new or groundbreaking. In short, recommended for readers new to the subgenre; not so much for anyone bored by over saturation of dystopian things.
Lastly I should mention I listened to the audio for my reread, and it changed my perspective of the whole book. Funny how that happened; I didn't expect it to affect me so much. The narrator, Tim Gerard Reynolds, has a voice with a special talent, and that is to highlight every single flaw in the text that I would have ignored had I been reading. Nothing against his voice or accents, but there's something about the way he narrates that makes these flaws so damn noticeable. Although I wouldn't say he "ruined" this book for me, I did enjoy it a lot more before the audio.
So will I read Golden Son? Yes, probably in the next few weeks. But no more audios.
*
* *
* * *
* * * * spoilers * * * *